3 Piece Seat Installation


The 3 pce Resin seat has fixed hinges. It will only fit toilet fixing points of 15cm apart. When measuring the fixing holes in your bowl, please make sure you measure from the middle of one hole, to the middle of the other hole. If you measure more or less than 15cm then you may need a 2pce seat.
The 3 pce wooden seats have adjustable fixing rods, which can slide horizontally along the underside of the back plate. It can fit toilet fixing holes up to 20cm apart.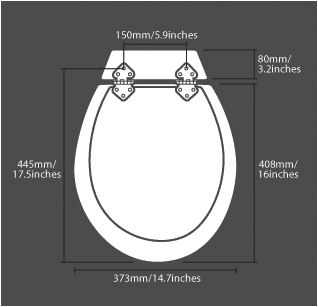 Contents:
2x dome nuts

2x threaded rods

4x rubber washers

2 x small plastic washers

2x metal nuts

1 x Nut Tool
Please complete steps 1-4 before installing on your toilet bowl.
For each side: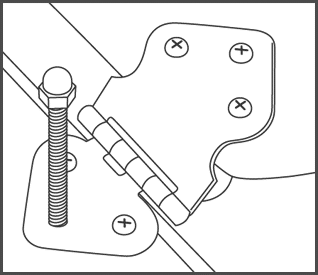 1. Tighten dome nut on one end of threaded rod.
2. Place threaded rod through hole in seat anchor, allowing dome nut to rest on hinge.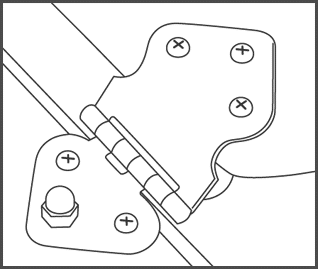 3. Place rubber washer on threaded rod on the underside of toilet seat anchor.
4. Place complete toilet seat onto your toilet pan/bowl.
5. Place rubber washer on to threaded rod, then put plastic washer onto threaded rod, use your hand to start tightening the metal nut. Finish tightening with the nut tool supplied.
6. Please store the nut tool in a safe place for future use.
Difficulty fitting our 3 piece seats to some pans?
If you are having difficulty installing your seat, it may be because the centre hole spacing is greater than 150mm, the fix is simple if you or someone you know is handy with a drill.
Using a drill bit the same size as the hole that is drilled in the underside of your seat.
Insert it underneath to just under the hinge. (Fig A). Slowly move it sideways as in the picture by 5-10mm on both sides.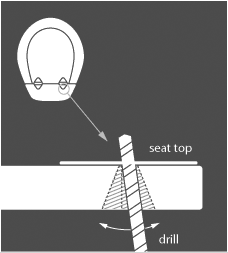 (This will allow your fixing bolts to move sideways and fit your pan properly, and should allow fitment to seats up to 160mm approximatley.)