Heat Pump Installation


Installation Guide for Swimmax Heat Pumps
Carefully read the following before installing the Swimmax swimming pool and spa heat pumps.
Make sure that the location where you plan to place your heat pump has good airflow.
Place the unit on a flat and secure surface.
Allow ample clearance between the sides of your heat pump and any obstruction.
Allow ample clearance between the top of your heat pump and any obstruction overhead.
Gather all the tools and supplies you need, and keep them within reach.
Heat Pump Location
The unit will work properly in any desired location as long as the following are present:
Fresh air
Electricity
Swimming pool filters
The unit may be installed in virtually any outdoor location as long as the specified minimum distances to other objects are maintained (see the diagram below). Please consult your installer for installation with an indoor pool. Installation in a windy location does not present any problem at all.

Installation of Swimmax Eco Heat Pump / Inverboost Heat Pump
The pipe installation can be done by yourself (if you are handy) or your local plumber.
Using a 40mm high-pressure PVC pipe (class 12, 50mm external), simply connect your pool heat pump inlet and outlet to your pool filter system outlet and inlet.
Bypass valves are required to balance water flow through the pool heat pump for optimum performance.
Have an electrician install a suitable power supply on its own circuit with RCD, and turn it on!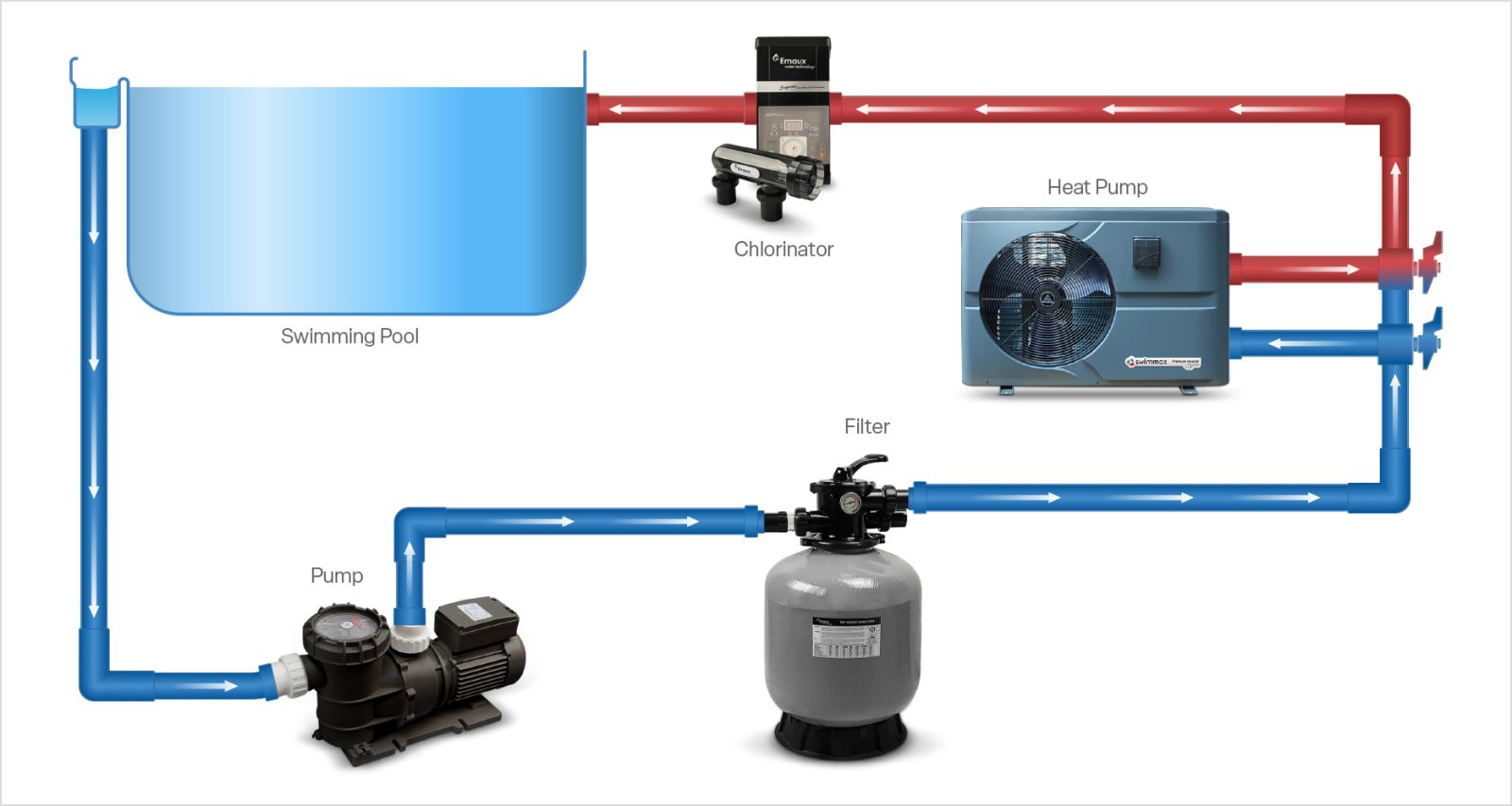 We highly recommend a diversion set-up for your heat pump to work properly. Diversion valves regulate and balance water flow, aiding in the pump's smooth and efficient operation. You can read the complete Heat Pump Installation Diversion Setup Guide and buy a set of diversion kits: 40mm or 50mm.
Installation of Swimmax Mini Heat Pumps
Simply connect the hoses and plug them in. The ambient temperature must be approximately 14° C to start working.